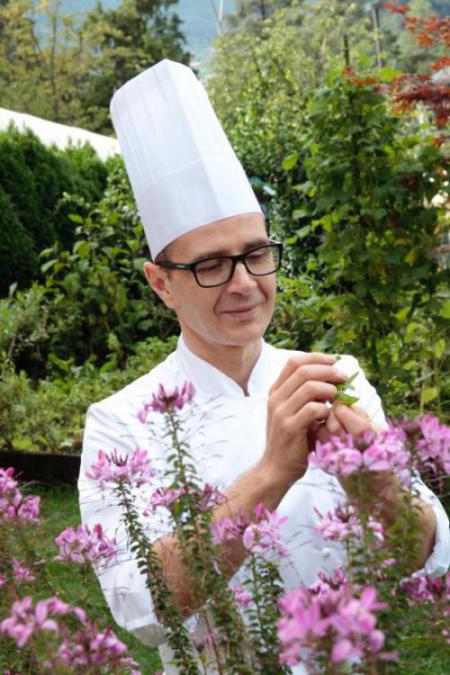 The cuisine at the NatureBio Hotel Elite in Levico Terme places an emphasis on local, organic products. Working with the Wine and Fine Foods Road of Trento and Valsugana enables the Bio Hotel Elite to use zero-miles products, which come to us fresh from local farmers and producers.
We are pleased to announce that after years of experimentation using certified organic products, the Nature Hotel Elite is now a 'NatureBio Hotel', which means it is a hotel with an environmentally-friendly ethos. We aim to transmit our passion for nature and organic produce to our cuisine, which focusses on region dishes made with healthy products that we get from various small growers and local farmers, who in turn are certified Italian organic producers.
The Vettorazzi family uses organic produce firstly at home. Through our business we have built up a network of producers who share our organic philosophy: "We must respect the environment and its natural cycle so that future generations, too, can experience and enjoy nature in its simplicity and wonder".
Our organic restaurant offers lunch and dinner every day with 4 set menus to choose from, an extensive salad buffet in the evening and a selection of desserts. Breakfast is served every morning from 7.30 to 10 am and includes fresh fruit, yoghurt, jam, fruit juice, cakes and pastries. Once a week our guests can enjoy a candlelit dinner with typical Trentino dishes. Our NatureBio Restaurant gives your holiday a different flavour.
And let's not forget the long tradition of fine cuisine of the Valsugana and Trentino region. If you love cooking and eating well or simply want to enhance your holiday with fine food, Valsugana offers you the opportunity of exploring the Trentino cuisine. Local restaurants serve delicious traditional food, such as polenta with mushrooms, game and cured meats, such as speck (a dry-cured ham), the famous Trentino lucanica sausage and the delicious carne salada (salt beef); then there are local cheeses, including the renowned Vezzena, exquisite rainbow trout and smoked trout, Trentino orzotto, a dish of barley and vegetables, strangolapreti (spinach gnocchi), canederli (bread dumplings), stinco (shin of pork), tonco de pontesel (meat and sausage stew) and smacafam (a savoury cake with lucanica sausage). The Valsugana has other Trentino specialities in store if you want enjoy real Trentino cuisine made with the finest products, including delicious traditional Trentino cakes and desserts: exquisite blueberry and blackberry cakes, raspberries with fresh cream, zelten (fruit cake), apple tart, torta di fregoloti (crumble cake) and apple strudel.
THE
ELITE
HOTEL'S
PHILOSOPHY
Stay in our NatureBio Hotel Elite and enhance your holiday with fine cooking and a philosophy based on attention to food products and respect for their natural cycles.
Sustainability is very important to the NatureBio Hotel Elite in Levico Terme so we use regional produce in our kitchen. Working with the Trentino Wine and Fine Foods Road enables the team in the NatureBio Hotel Elite's kitchen to create delicious regional specialities with a freshness that is revealed in the taste of the food. The aim of this collaboration is to give preference to regional produce and give new life traditional products. Typical Trentino foods, which naturally find their way into the NatureBio Hotel Elite's dishes, include various types of cured meat and cheese, wine, grappa and apples.
The NatureBio Hotel Elite's surroundings also reflect this bond with nature: dense pristine forests, flowering alpine meadows and jagged peaks add beauty and wonder to a holiday in the heart of the Lagorai Mountains, while Lake Levico will tempt you to take a dip in its refreshing, crystal clear waters.
The Vettorazzi Family look forward to welcoming you to the NatureBio Hotel Elite in Levico Terme!