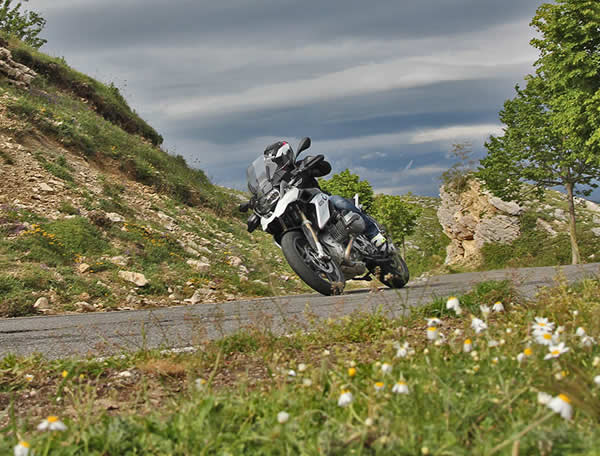 Trentino-Alto Adige is not like any other region as far as two-wheel enthusiasts are concerned – its exceptional network of roads is the dream of every Italian and European motorcyclist.
Bikers come to the NatureBio Hotel Elite in Levico Terme from all over Europe to experience the exhilaration of taking the curves and the beautiful scenery.
Every year the Hotel Elite's friends come back to us, not just for the beauty of the Valsugana region but also for the many facilities we offer bikers. A large garage in the hotel provides a safe haven for your bikes so you can sleep in peace. But our facilities don't end there, we have various seasonal promotions for bikers staying with us and we are always more than happy to give you a hand in planning your biking holiday in Valsugana and help you discover the area's most exhilarating routes.
The NatureBio Hotel Elite in Levico is ideally located for fantastic adventures exploring the beautiful valleys of Trentino on two wheels. You can set out from here to cross exciting passes in the Dolomites and explore the majestic Dolomite peaks, or head south to Lake Garda to ride along its shores or climb higher to admire its colours from above. And after a day in the open air, we'll welcome you back with a delicious dinner accompanied by an excellent craft beer.
We're sure the NatureBio Hotel Elite will become your favourite biker hotel in Valsugana, too, and your base for exploring the zigzagging roads to the passes and other scenic routes.
There are many routes you can take to explore the Valsugana by motorbike – here are a few that we recommend:
VALSUGANA

BY

MOTORBIKE:

VETRIOLO

-

PANAROTTA

SHORT ROUTE: 25 km Levico Terme - Compet - Vetriolo - strada dei Baiti - Levico Terme

From Levico Terme, take the scenic SP11 road with magnificent views over the valley below to Compet and then on to Vetriolo, 1,500 m asl on the slopes of Monte Frante. This is where the two springs pour forth their arsenic- and iron-rich water, the highest spa water source in Europe. Vetriolo is the perfect base for trips into the Lagorai, one of the most interesting and fascinating mountain ranges in Trentino.

After

Compet

and just before you get to Vetriolo, Panarotta can be easily reached on a good asphalt road that runs up to the car park at the cable car station for the "Panarotta 2002" ski area. If you like walking, you can park here and climb Cima Esi (1,832 m), Cima Storta (1,901 m) or Monte Panarotta (2,002 m). From Vetriolo, continue past the Maso al Vetriolo Vecchio restaurant then descend the Strada dei Baiti, which winds through beautiful meadows and dense woods back to Levico Terme (25 km)

VALSUGANA

BY

MOTORBIKE:

VALLE DEI

MOCHENI

/

BERSNTOL

SHORT ROUTE: 52 km Levico Terme - Pergine Valsugana - Sant'Orsola - Palù del Fersina - Fierozzo - Canezza - Pergine Valsugana - Levico Terme
From Levico Terme head towards Pergine Valsugana and then Canezza, at the beginning of the Valle dei Mocheni: the Fersina torrent flows through this enchanting mountain valley, which is inhabited by German-speaking people who have maintained their language and ancient customs and traditions over the centuries. Having passed Mola, you come to Sant'Orsola, tourist resort and spa town with arsenic- and iron-rich waters. Continue to Palù del Fersina / Palae en Bersntol, 1,350 m asl, where you can set out for beautiful walks in the Lagorai Mountains, to the little alpine lake of Erdemolo, the Rifugio Sette Selle and Sasso Rotto. Palù was once an important mining centre, and in the early 1500s there were several mines in Palù, Fierozzo and Roveda worked by German miners, known as canopi in Italian, Knappen in German. Mainly copper, silver and lead were mined and one of the mines has recently been restored and opened to the public. In Palù, there is also the Mòcheno-Cimbro Cultural Institute, established to protect the linguistic and cultural heritage of the ethnic minority in the Valle dei Mocheni and the Cimbri in Luserna. From Palù, take the road down to the Fersina torrent and over to the other side of the valley and continue to Fierozzo/Vlarotz then Frassilongo / Garait and finally back down to Pergine Valsugana and Levico Terme.