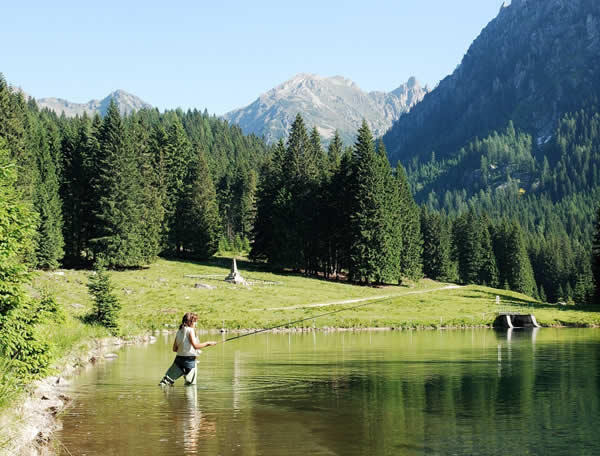 FISHING
IN
TRENTINO
IN
THE
LAKES
AND
STREAMS
OF
VALSUGANA
There's no shortage of places to go fishing in Valsugana. In Lake Levico and Lake Caldonazzo, in the numerous small mountain lakes and in the various rivers and streams you can find brown trout, Arctic char, pike, perch, the occasional black bass, the very cunning chub and big carp.
If you're looking for a quiet, rural place to fish in Trentino, the lakes and streams of Valsugana offer the more enterprising angler a wide variety of places to fish.
FISHING
IN
LAKE
LEVICO
The nearby Lake Levico (500 m asl), a splendid, crystal clear, emerald lake, is an ideal spot to go fishing in Trentino. The numerous species of fish that inhabit its waters attract many fishing enthusiasts who come in particular for the trout.
Lake Levico is well populated with splendid pike, perch, brown trout, and, in the right season, big laveret. It's also common to see large chub as well as tench, rudd and carp swimming through the transparent waters of Lake Levico. Near the shore there are numerous freshwater shrimp and sunfish, while eels lurk at the bottom.
The lake is managed by the Lake Levico Fishing Association and you need to have an Italian fishing license and a daily/weekly fishing permit to fish in Valsugana and all of Trentino.
At the NatureBio Hotel Elite in Levico we are always happy to give you advice and information on fishing in Valsugana and help you get your fishing permit.