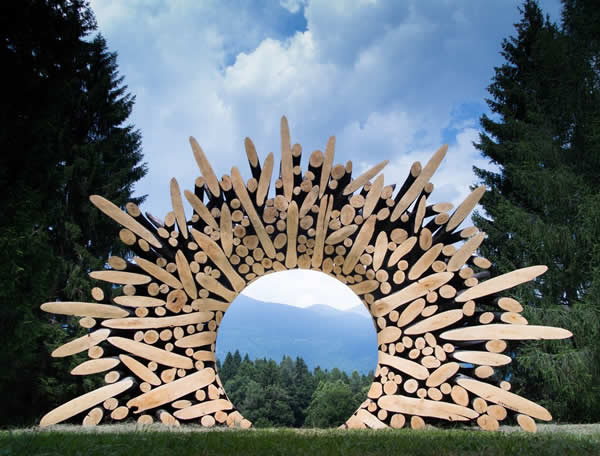 ARTE
SELLA:
where
Valsugana's
nature
is
transformed
into
art
Arte Sella is an unusual exhibition of contemporary art in the woods, set out along a forest track in the Valle di Sella in the district of Borgo Valsugana.
The original "Arte Sella" project was founded in 1986 with the idea of presenting works of contemporary art in the open air, in the meadows and woods of the lovely, verdant, unspoilt Val di Sella, which branches off the southern side of the Valsugana near the town of Borgo Valsugana.
ArteNatura has been taking shape since 1996, a 3-km trail where visitors can view the artists' works and also see how these interact with nature, because Arte Sella is not just a creative space, it is a continuous process in which the work grows and changes day by day.
Some of Arte Sella's works have become emblematic: the Tree Cathedral, created by the artist Giuliano Mauri near Malga Costa, and Roberto Conte's Theatre, which hosts plays, concerts and performances.
The relationship with nature and with natural language has spawned the project "Fucina Arte Sella". Established by maestro Mario Brunello, its intention is to provide selected teachers and students of music and other disciplines with a unique workshop experience.
From time to time, Arte Sella Various hosts various exhibitions attracting art enthusiasts and the curious, who want to experience art in close contact with nature and the very inspiration that gave rise to them. This is an opportunity that art lovers should not miss and a place for tourists visiting Valsugana to discover.
Arte Sella
Val di Sella - Borgo Valsugana (Tn)
Info: +39 0461 751251
www.artesella.it