FAMILY
HOLIDAYS
IN
VALSUGANA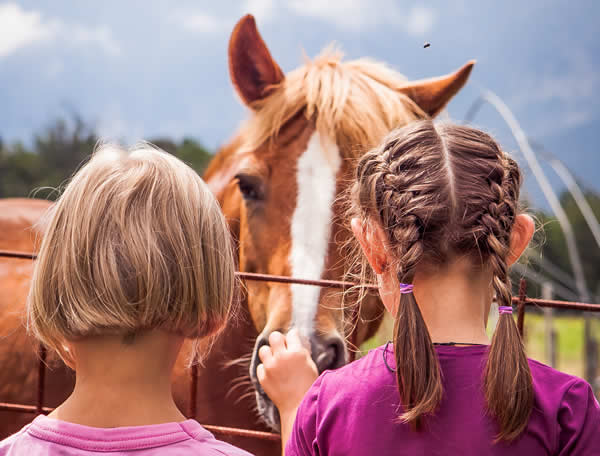 The NatureBio Hotel Elite is the perfect hotel for families on holiday in Trentino.
Our hotel has various special offers and features a range of facilities to meet the needs of families with children on holiday on Lake Levico.
At the NatureBio Hotel Elite in Levico we have always been particularly attentive to the needs of families with children. We organise lots of entertainments and activities so that Mum and Dad can relax, too: handicrafts with Patch Point friends, toddlers' dance in our garden and also... our NatureBio Dragon "Scota"!
You can relax when on holiday with us because we have strict standards of quality to guarantee maximum comfort, flexibility instead of rigid timetables and special areas and facilities for our youngest guests.
Our hotel has a large garden with swings and slides where children can safely play while their parents relax, maybe sipping a cocktail on a lounger or being pampered in our massage centre.
The Valsugana region also offers a wealth of activities making it an ideal holiday destination for families with children – there are always plenty of new ways of having fun, summer and winter.
In the summer, there are several things to do with small children: a day at Lake Levico, a lovely walk in the woods, a bike ride or a unique day out to "adopt" a cow on a mountain pasture, a delightful trip organised by the Valsugana tourist office. Children can choose their cow out in the meadows, even milk it and give it a cuddle. The proceeds go to charity and the entire family have a unique and unforgettable day out.
There are also many activities where you can explore the Valsugana region: from Trentino's castles to its protected landscapes, from nature reserves to the many footpaths and refuges where children can have fun and enjoy a unique, unspoilt natural environment.
If you are looking for something educational, we recommend a trip to the Celado Astronomical Observatory where you can study the stars from a dome that opens and rotates. During the day, the Sun and Moon and the planets Mercury and Venus can be observed, while at night the most spectacular celestial bodies become visible (the Moon and the planets, open and globular clusters of stars, nebulae and galaxies).
The Bio Hotel Elite also recommends you don't miss the fantastic Acropark adventure park in the Centa River Park at Centa San Nicolò, a 15-minute drive from the hotel. With acrobatic courses among the trees of various levels of difficulty, it's a place where children can go wild in total safety.
In winter, from November to 6 January children and adults alike will love Trentino's Christmas markets in Valsugana. Coloured lights, stalls, activities for children with the elves and even the chance to meet Father Christmas - the magical Christmas atmosphere will captivate the whole family! Among the many Christmas markets in Trentino we heartily recommend the one in Levico, held in the enchanting Hapsburg Park.
Children who are keen on skiing and the snow will love the two ski resorts of Panarotta 2002 and Funivie Lagorai, both are family friendly and perfect for a winter holiday with children.
The
NatureBio
Hotel
Elite
in
Levico
is
happy
to
help
you
plan
your
holiday
in
Valsugana
with
the
whole
family!