SUMMER
HOLIDAYS
IN
TRENTINO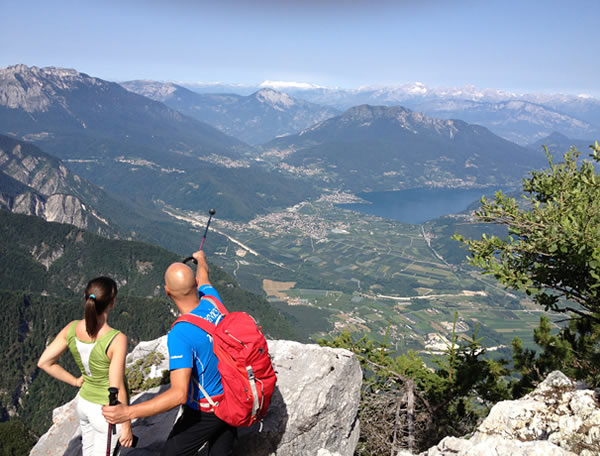 Summer in Trentino: a holiday in Valsugana offers a dazzling array of things to do.
The Valsugana, in south-eastern Trentino, between the Altipiano di Asiago and the Lagorai mountains, is the perfect for a peaceful summer holiday in the mountains. This is a region of ​​unparalleled beauty where you can breathe clean air, enjoy the benefits of its spa waters, lakes and verdant woods and the majestic peaks of the Lagorai mountains.
There's a an abundance things to keep you entertained in summer in Valsugana. You can explore the region by land, water and air, depending on whether you decide to go walking, mountain biking, Nordic walking or climbing, or swimming, sailing or windsurfing on Lake Levico or Lake Caldonazzo.
Trentino will open your eyes to its vast heritage of art, history and culture. The vitality of this region can be seen in the work in the fields and pastures and their produce, in its traditions and in the deep-rooted values ​​held by its people; it expresses the intimate relationship between nature and culture, civilisation and landscape, well-being and hospitality. In former times, the Empress Sissi of Austria was enchanted by the beauty of the Valsugana region. Captivated by the vast green meadows and woods under dancing rays of sunlight and by romantic alpine pastures set against the dazzling backdrop of the Dolomites, she would spend her holidays in this magnificent region, which you, too, can now discover.
A summer holiday in Trentino always offers occasions for encounters and new knowledge, a wonderful enriching voyage of discovery. The atmosphere is of uncrowded peace, where you can explore nature on an enchanting walk, taste typical Trentino food or dedicate some time to your physical and mental well-being, perhaps at the spa resorts of Levico and Vetriolo.
In summer, the NatureBio Hotel Elite in Levico is the perfect base for exploring the wild, unspoilt landscape of the Valsugana. Choose a footpath to your liking, in the mountains or in the valley, explore stunning landscapes and enjoy breathtaking views of the mountains. Or why not venture onto the Altipiani di Celado, Marcesina, Musiera & Vezzena? You won't regret it!
With their woods, ancient mule tracks, meadows, farmhouse and lakes, a walk in the Valsugana and the Lagorai Mountains is full of surprises.
Let the mountains work their charm on you - discover the splendour of majestic peaks and the colours of alpine flowers.
Come and explore the Valsugana! The NatureBio Hotel Elite will meet all your holiday needs and when you come back from your walk or your day out in touch with nature, only the best will be waiting for you.