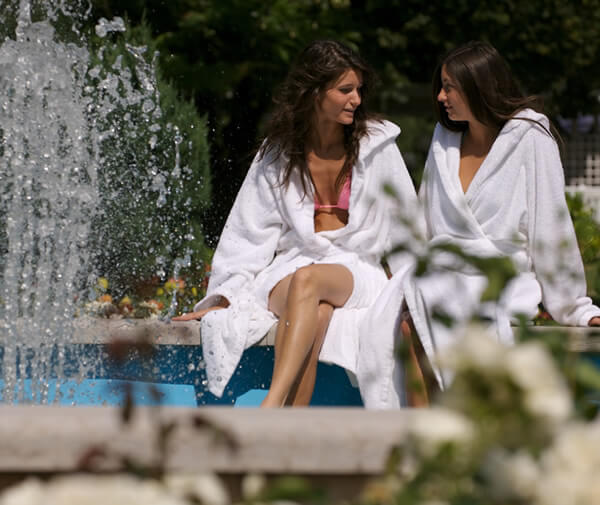 Levico and Vetriolo's SPA are located in Valsugana, just 5 minutes from our hotel.
An excellent spa for those who want to relax and spend a few moments dedicated to wellness.
The exclusive properties of the thermal water used at Levico and Vetriolo's SPA have been known since the Middle Ages but it was in 1870 with the construction of the first thermal aqueduct that the development of thermal activity began in Levico, becoming over time a point of reference not only in Italy but throughout Europe.
The thermal waters of the establishment flow at an altitude of 1582 meters between the Dolomite rocks and are indicated in the treatment of anxious states, diseases of the musculoskeletal and respiratory systems, dermatological and gynecological diseases, thyroid diseases and problems with the immune system.
They offer the whole range of thermal treatments, from baths to mud baths, but the main feature of this spa is the remarkable concentration of dissolved minerals and the low temperature, which makes these waters ideal for hydropinic treatments.
There are many wellness programs designed by medical specialists for all ages, from children to the elderly.
Among the various courses and treatments we recommend:
Thermal Experience
A well-being experience useful for recovering energy and relaxing.
Vapor Experience
Ritual that uses the benefits of steam to deeply purify the skin and regenerate it.
Thermal Beauty
Many treatments for face and body to meet all the needs of aesthetics and well-being.
At the Spa there are also a specialist clinic and a physiotherapy center.
Levico and Vetriolo's SPA are centers accredited by the Ministry of Health. You can access the spa treatments in agreement with the National Health System, by presenting the referral from your family doctor. (MORE INFO: https://www.termedilevico.it/en/)
Treat yourself to a wellness break and try our SPA with all its benefits.