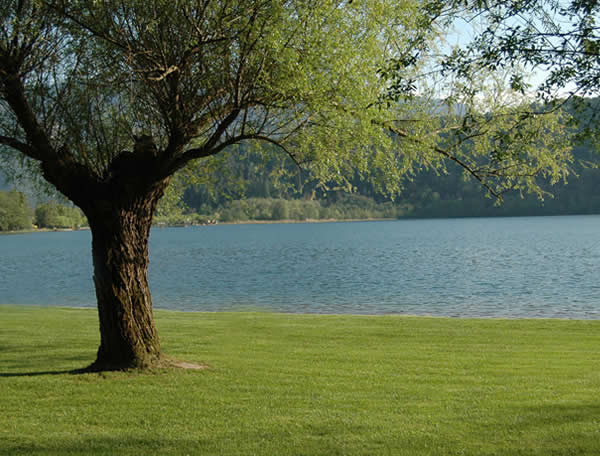 LAKE
LEVICO
WHERE
THE
WOODS
COME
DOWN
TO
MEET
THE
WATER
Lake Levico, in the heart of Trentino, is known for the beauty of its water and the unspoilt natural landscape in which it lies. With its long, narrow shape, reminiscent of a Norwegian fjord, it is the second largest lake in Valsugana and one of the warmest in southern Europe, and has had Blue Flag certification every year since 2013. Its clear waters, the beach with its range of facilities, and an eco-sustainable management policy have all helped win this sought-after award for Lake Levico.
Surrounded by beautiful forests and a beach that is much-loved by locals and tourists alike, the resort of Lake Levico is one the most popular with the many tourists who come to Trentino from all over Europe, captivated by this extraordinary region. There's no doubt it's best place to spend a few peaceful hours or days, strolling along the lakeside path, lazing on the beach or exploring the Canneto di Levico nature reserve, a protected natural oasis.
Lake Levico is perfect on a hot summer day. Take a dip or a swim in the water – it's a pleasure not to be missed. If you love exciting water sports, Lake Levico offers windsurfing and sailing. And the lake is also a real paradise for fishing enthusiasts, attracting fishing experts from near and far, especially for trout fishing. A fantastic resort for a holiday to remember.
Romantics will go into raptures at the view of Lake Levico, be mesmerised by the sound of the water and fascinated by the explosion of colours. While sports enthusiasts will find plenty of opportunities to launch themselves into new adventures. Are you ready to be captivated?