OTHER
SUMMER
SPORTS
IN
VALSUGANA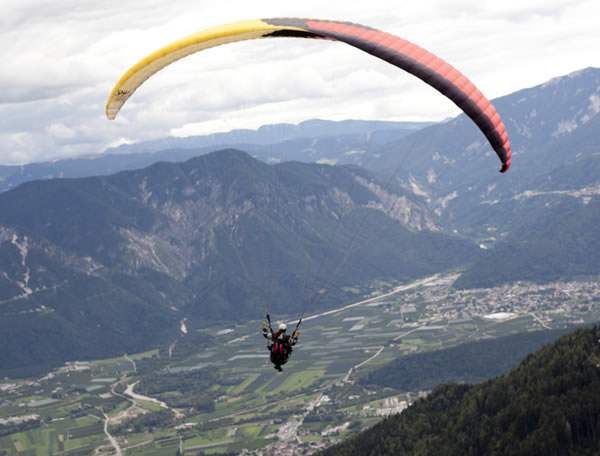 PARAGLIDING
–
FREE
FLIGHT
Of the many summer sports activities in Valsugana, let's not forget free flight, a sport for people who love life close to nature in spectacular environments combined with a touch of exhilaration.
At over 2000 metres, the views from Cima Panarotta are fantastic: the Brenta Dolomites and the Alps to the north-west, and the Valsugana with the beautiful lakes of Levico and Caldonazzo to the south.
In summer, taking off from Panarotta, with a height gain of 1500 metres and constant thermal updrafts, is an exhilarating leap into an unforgettable flight.
GOLF IN VALSUGANA
Playing golf is another way of having an active holiday in Valsugana .
There are three Golf Courses to choose from - in Pergine Valsugana, Roncegno and Tesino – where you can spend the day outdoors with your family or friends putting balls into holes surrounded by the beautiful scenery of the Valsugana.
If you've not played golf before, there are summer schools where you can learn to play under the guidance of experts; individual lessons and group courses are available. If you want to take advantage of your holiday in Valsugana to improve your game, experts are on hand to devise a customised training programme for you.
HORSE
RIDING
Valsugana is the perfect place for lovers of horse riding.
The numerous paths and bridleways in the mountains make this a paradise for horse riding. The Ippovia del Trentino Orientale (Eastern Trentino Bridleway) is a must: the route, which can be done in stages, runs across the entire Lagorai chain through unspoilt nature and breathtaking landscapes. If you'd prefer some riding lessons first or would like to go on a guided trek, there are several horse-riding centres in Valsugana. The contact with horses that riding gives you promotes physical well-being and relaxation in both adults and children. Everyone can ride here in complete safety.
SCENIC
HELICOPTER
FLIGHTS
Explore Valsugana from above with a LagorAir panoramic helicopter flight and gaze on the beauty of this area from a different perspective. On offer to complete your Valsugana experience are organised tourist flights over sites of the Great War or panoramic helicopter flights - a great gift idea to share with friends or family. Marvel at the beautiful scenery of the Valsugana from another point of view.
MUSHROOMING
The woods of the Valsugana and Lagorai are famous for their numerous species of mushrooms. Chanterelles, porcini, armillaria, saffron milk caps and many other varieties develop throughout summer and autumn at the foot of trees and in meadows. Mushroom enthusiasts will find this a rich, stimulating environment to put their knowledge into practice.