LEVICO
TERME'S
CHRISTMAS
MARKET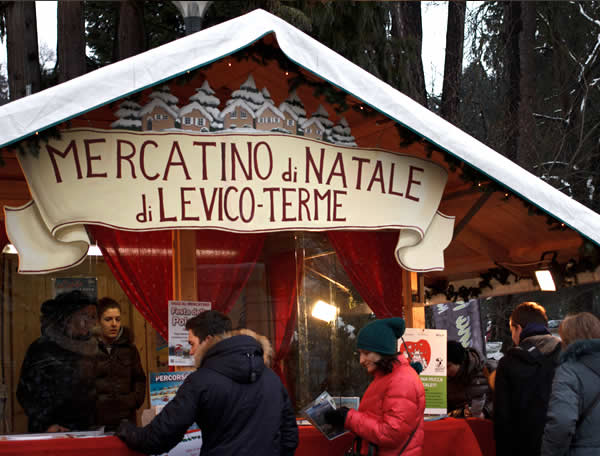 THE
MAGIC
OF
TRENTINO'S
CHRISTMAS
MARKETS
CHRISTMAS
MARKETS
IN
LEVICO
TERME:
FROM
25
NOVEMBER
2023
TO
06
JANUARY
2024
Christmas Markets take place every year during the Christmas period in Trentino's town centres and are not to be missed. Perfumes, colours and tastes mingle with the unique atmosphere that this mountainous area alone can evoke in visitors to the markets. Everywhere you look you'll see local products and gift ideas as well as mulled wine to drink with the local cakes and pastries - all things that make this time of year magical. Yet another reason to come to Trentino, particularly Levico, for your winter holidays.
The Christmas Market in Levico Terme in Valsugana is undoubtedly one of the most characteristic and picturesque of Trentino's Christmas markets. Don't forget to make a note of the dates when planning your Christmas holiday in Trentino, they are open from November to 6 January.
Levico's Christmas Market is held in the 19th century Hapsburg Park, a magical oasis where you can breathe the spirit of Christmas. Around sixty wooden kiosks nestling among the century-old trees of this historic park offer the finest artisan products and the wonderful tastes of Trentino mountain food. The unique setting with Christmas music and soft lighting playing in the trees in the park will fill children and adults alike with wonder. Christmas decorations, Trentino gastronomy, gift ideas and, of course, a warming cup of mulled wine or Parampampoli (a typical Trentino drink made with coffee, wine, grappa and honey) will carry you away into a Christmas fairy-tale paradise.
To keep the children entertained, there are farm animals, and fairy tales and the Elfen Village songs to listen to, and, of course, the chance to meet Santa Claus and give him their letters.
You may be a couple or a group of friends or a whole family on holiday in Levico, whatever the case don't miss a visit to Levico's Christmas Market.