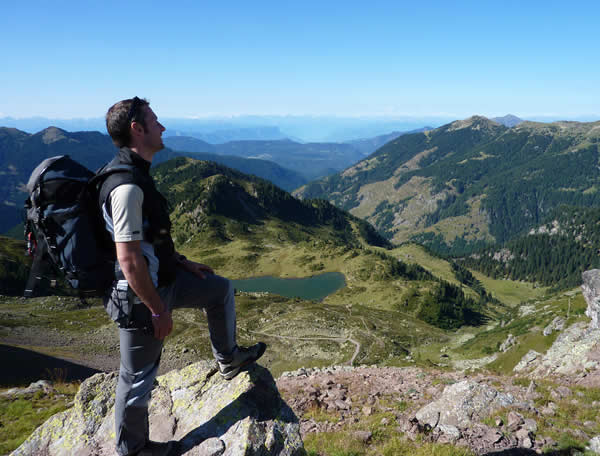 WALKING
IN
TRENTINO:
DISCOVERING
THE
VALSUGANA
ON
FOOT
With its vast network of footpaths and captivating natural environment, Trentino draws many visitors who enjoy an active holiday
If you love mountains, Trentino is a perfect wonderland and there's an astonishing number of opportunities for walking. When you choose Trentino for your summer holiday, don't miss out on a walk in the magical landscapes of the Dolomites – it's the best way to get to know this area.
The Valsugana and Lagorai mountains have a vast range of walks for all abilities: from more gentle walks for families, to routes of medium difficulty for walkers who want to enjoy nature and get a reasonable amount of exercise, to the more demanding and exhilarating mountain routes for serious hikers.
The fascinating landscapes and scenery around Levico Terme offer plenty of opportunities to get out and about. The Altopiano di Vezzena and Panarotta are just two of the areas most popular with keen walkers staying at our hotel.
The Altipiano di Marcesina crowned by the peaks of Cima Ortigara and Cima Dodici with their historic associations, the Altipiano di Vezzena with its impressive peak of Pizzo di Levico, the Lagorai Mountain Chain running from Monte Panarotta to the Pale di San Martino, and the granite massif of Cima d'Asta in Tesino also offer plenty of opportunities for mountain walking.
There are walks for everyone in Trentino and in Valsugana in particular. When you choose Levico Terme for your walking holiday in Valsugana you'll be spoilt for choice: from simple routes for families with children, even with pushchairs, to walks of a high level of difficulty.
If you want to push yourself a bit and take in the mountains completely, the Lagorai has 3 routes of several days' duration traversing the chain: the Alta Via del Granito (Granite High Path) on the fascinating granite outcrop of the Cima d'Asta - Cima di Rava group; the Lagorai Panorama through the heart of the mountain chain where you walk along the former Austro-Hungarian line of defence line and the Italian line of counter-attack during the First World War; and the Translagorai Path that crosses the entire Lagorai chain west to east from Panarotta to Passo Rolle. See all the High Paths in the Lagorai.
Stunning views and glimpses of idyllic scenes go hand in hand with a walk in Valsugana. And everyone knows that mountain air and exercise make you hungry, so why not stop along the way at a malga (summer Alpine farm) or a refuge and take advantage of that famous Trentino hospitality and try some traditional local food? It will make the effort well worth while!
But that's not all! When you come to Valsugana for a walking holiday in Trentino you can also enjoy the beautiful lakes of Levico and Caldonazzo, great for swimming! You'll pass them on your walk and they are a wonderful way to cool off on a hot summer day, or you can simply stop to admire the scenery before continuing your walk.
At
the
NATUREBio
Hotel
Elite
in
Levico
we
will
be
happy
to
recommend
walks
suited
to
your
ability.