WATER
SPORTS
IN
VALSUGANA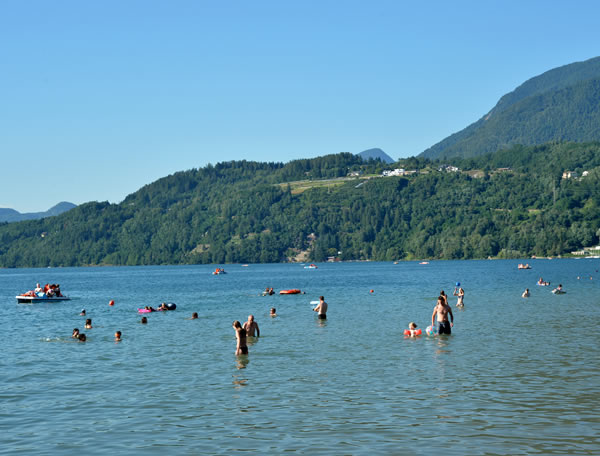 EXCITING
WATER
SPORTS
ON
LAKE
LEVICO
AND
LAKE
CALDONAZZO
With two large lakes, Lake Levico and Lake Caldonazzo, Valsugana is also a great place for all sorts of water sports.
There are sailing centres on Lake Caldonazzo offering sailing lessons for adults and children, while the more daring can have a go at water skiing. The lake has played an important role in this sport, as it was - and still is - the "training ground" of Thomas Degasperi, Trentino water skier and slalom specialist, current European and World Champion.
Hire a boat, pedalo or canoe on Lake Caldonazzo and Lake Levico and while away a few hours watching the reflections in the clear, clean waters of the Valsugana - and have a swim, too!
For some years now, Lake Caldonazzo and Lake Levico have also been plied by somewhat unusual craft for an Alpine environment: dragon boats. Strong and streamlined, these boats have a crew of 22: twenty paddlers, a helm, and a drummer in the bow beating the rhythm of the rowing. On a late afternoon in summer, you can often hear the drumbeat of the dragon boats on Lake Levico and Lake Caldonazzo out training for the spectacular rowing competitions that see all the towns of the Valsugana - and elsewhere - taking part. One that stands out is the Palio dei Draghi on Lake Caldonazzo: a great folklore-sports competition between local towns and a truly unique spectacle with its colour and enthusiastic participation. Don't miss it if you're in our Valsugana.